WWU Give Day Increases Donations by 12%
In 2022, the Western Washington University Annual Giving team came to us for help in developing content for the WWU Give Day fundraising campaign. Their overarching goal was to unify their Give Day communications around consistent messages that demonstrated the need for giving. Along the way, they wanted to tell a unified story that celebrated the university's values and reminded alumni of their time at Western.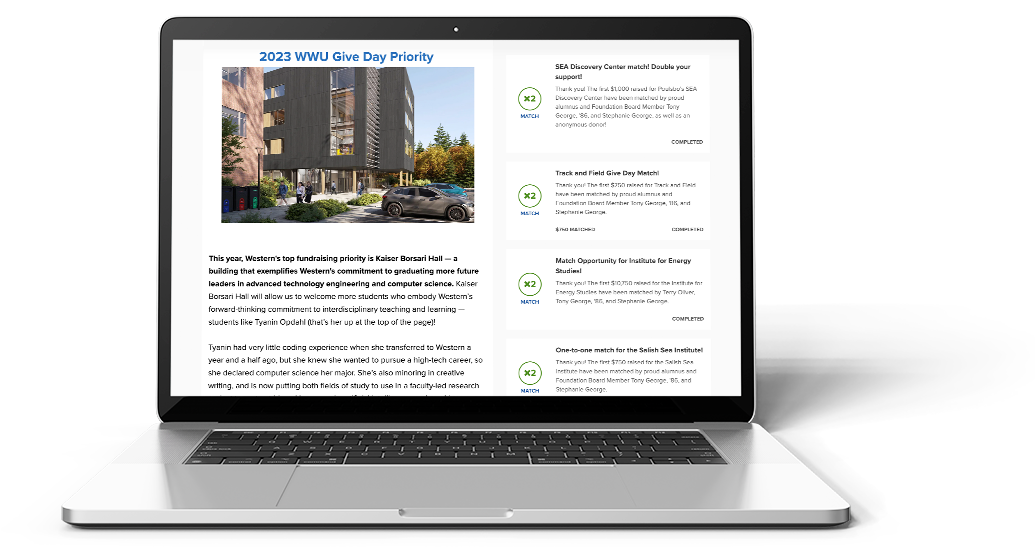 Part 1: We designed a new Give Day toolkit for the 80+ peer-to-peer fundraising groups across campus. The new toolkit gave the departments, clubs and teams a template for how to write emails and communications that inspired people to give to their fund. We also included instructions on how to build a webpage on the university's fundraising platform.
Part 2: We took the lead in interviewing and writing the campaign's hero student story. Based on this story, we wrote all of the print, email, web and social media content for the Give Day campaign – weaving in Western's values and highlighting the whole-student experience through the story of one undergraduate.
In total, the WWU Give Day campaign raised $1,119,540 from 3,140 donors – handily beating the $750,000 goal, increasing year-over-year revenue by 12% and boosting the number of donors by 5%, including 1,344 new donors.