Building a Physician Marketing Program for a Pediatric Health System
Children's Health houses Children's Medical Center Dallas and is the nation's 8th largest pediatric health system. In 2018, they turned to us to build a physician marketing program from the ground up. The goals were to increase referrals and support a multi-year campaign to boost reputation scores and increase U.S. News rankings across 10 core service lines.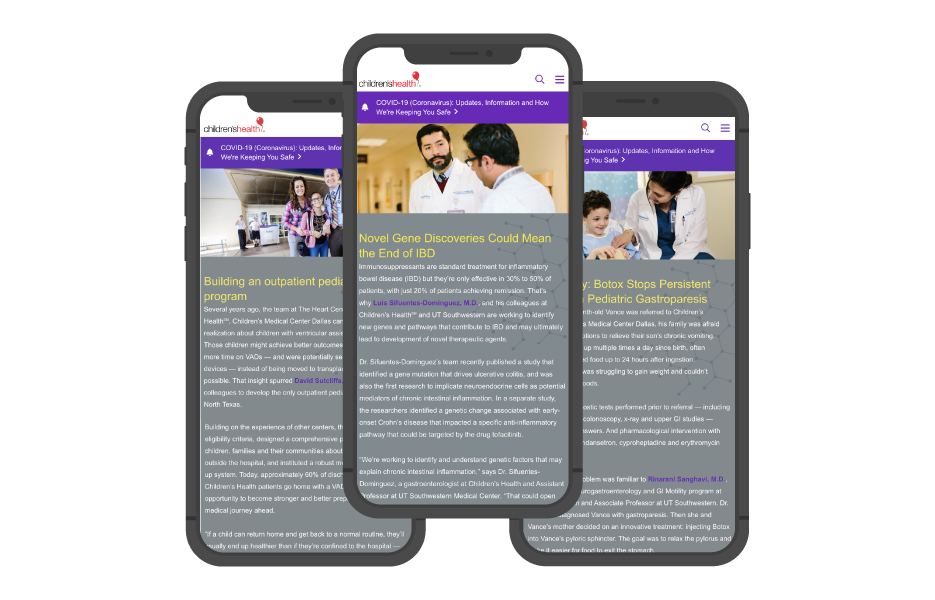 To start, we went to Dallas and led a 2-day workshop to pinpoint the marketing team's goals and define a content marketing strategy that relies heavily on web content, email marketing and Doximity content. We also met with their service line leaders to understand their differentiators and identify content topics. Then we developed a year-long editorial calendar and created the related content. This effort was initially supported by quarterly trips to Dallas, where conducted in-person interviews and met with the marketing team to evaluate results and adjust tactics. (We conducted these meetings and interviews virtually during the COVID-19 pandemic.)
Children's Health has seen increased reputation scores in key areas.
The vast majority of Doximity content has outperformed benchmarks. For example, our recent pediatric gastroenterology campaign content had a view rate of 65% – well above Doximity's benchmark of 19-29%.
Our emailed Children's Health content typically sees open rates of above 13% and click rates of above 7% – significantly higher than our service provider's average open and click rates.
We launched the campaign in 2019. Encouraged by the results, Children's Health asked us to expand the campaign in 2020 and 2021.