Boosting a Research Institute's Blog Traffic by 300%
The Benaroya Research Institute (BRI) is a world leader in studying the immune system's role in viruses and disease. This interplay was suddenly part of the national conversation when COVID-19 struck, as people struggled to understand the virus and how it affects the body. For BRI, it was an opportunity to use their immunology expertise to educate people about COVID-19, and a chance to introduce their research to a broader audience.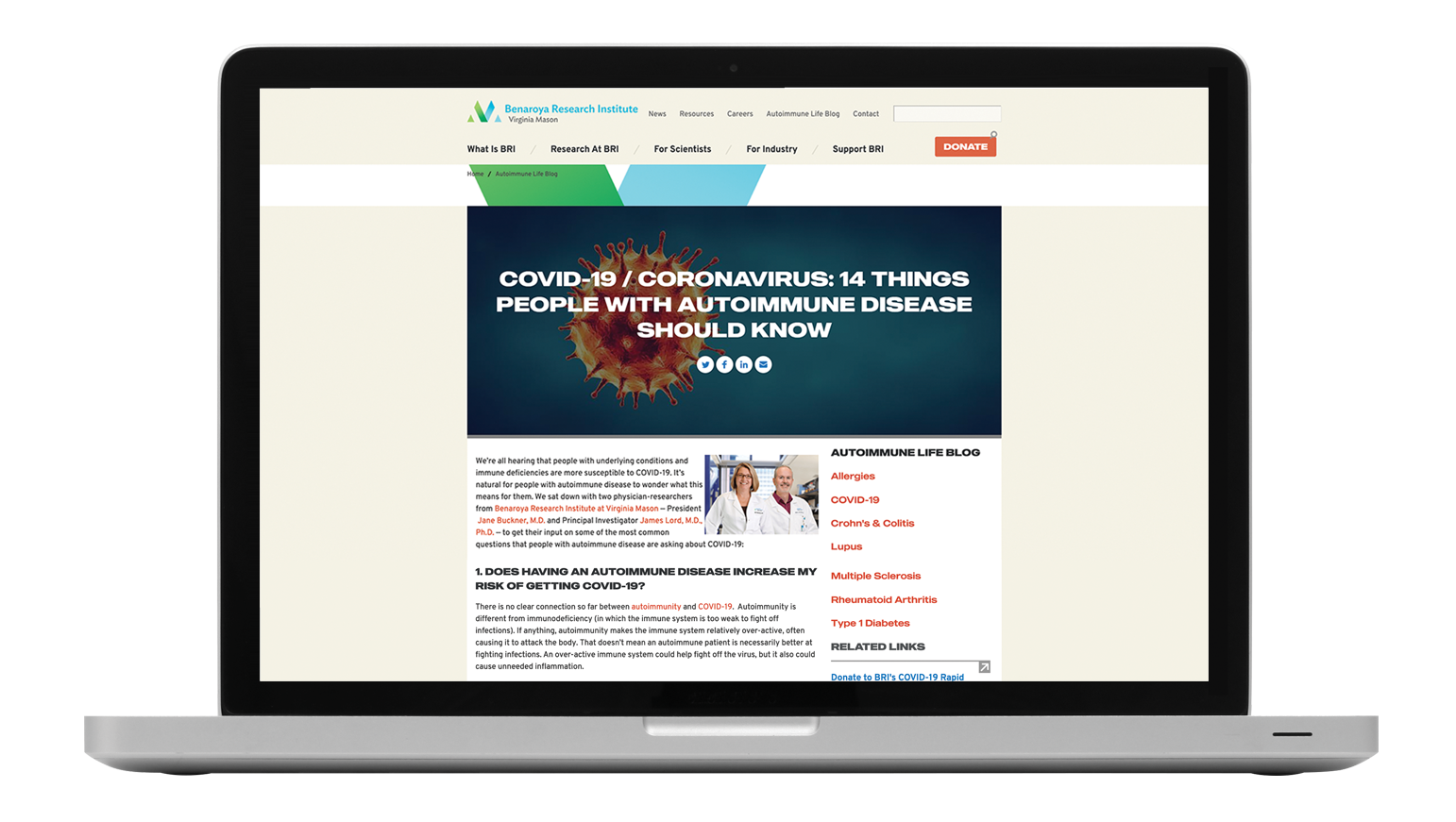 We worked with BRI's internal team to create a blog and print newsletter series explaining key aspects of COVID-19 to their core audiences, which include people living with autoimmune disease and other immune-related conditions. First, we leveraged our prior audience research and combed through Reddit disease forums to pinpoint the audience's COVID-19 questions and worries. Then we interviewed BRI researchers to answer those questions, and fashioned those answers into blog posts and newsletter articles that were published during the first wave of COVID-19 lockdowns. We carefully optimized the posts for search. 
BRI's blog readership soared and helped ignite a surge in philanthropic donations. Results included:
Our post on how people with autoimmune disease should navigate COVID-19 achieved a top Google ranking and outranked similar content by the Cleveland Clinic and other high profile institutions.
Unique visits to BRI's blog increased by 300%.
Overall traffic to BRI's website increased by 49%, as many blog readers clicked through to the main site.
Return visits to BRI's blog were 250% higher than the previous quarter.
Blog traffic comprised 55% of BRI's overall web traffic during the quarter, compared to 22% in the previous quarter.
Over the same period, BRI received $350,000 in private donations, some of which served as seed money for COVID-19 research projects that landed $5 million in NIH funding.